Why Use Capped WPC Products
Capped WPC or Co-extrusion WPC
Capped WPC or co-extrusion WPC products are the new generation WPC that is increasingly used for External Cladding and Decking. They provide much better value in terms of aesthetics, strength, and durability of the buildings than standard or conventional WPC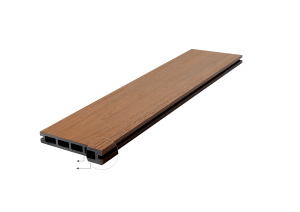 The Material
Capped WPC or Durashield is a co-extruded material with an inner composite core shrouded by a high density outer shield core. The inner core is a combination of hardwood powders, 100% recycled HDPE, filling, binders and additives that is co-extruded and capped with an outer shield layer. Both the core and outer shield are co-extruded together simultaneously through a mould, and the non-organic surface material with antioxidants and UV inhibitors used during the process completely covers and protects the inner core.
Characteristics
Capped WPC or Durashield products have improved characteristics over conventional WPC products. The outer shield core provides a better appearance. They are far more UV resistant and less susceptible to fading or discoloration and thus have higher weathering capabilities. The material is less prone to scratching, staining or mildew and hence needs much lower maintenance. The result is improved strength and resilience to weathering and a better wood feel over longer periods of time. 
Advantages
Co-extrusion is a game changing technology that far out beats standard WPC products and an array of other materials used for similar applications. The premium good looks, ultra durability and ultra-low maintenance of capped WPC or Durashield products make them the perfect choice for surface applications such as outdoor decking and cladding.
Applications
Capped WPC or Durashield products are ideal for use in commercial & residential areas with heavy footfalls such as pool sides, pathways, courtyards, extensions decks, parks, play area and terraces. The wide array of surface finishes and colours provide very good flexibility for use in exterior facades, ceilings, false ceilings, partitions, prefab buildings, gazebo tops, signage, and accent & feature walls.
With a such excellent combination of aesthetics, durability and performance, Capped WPC or Durashield is here to stay!