Everwood WPC cladding
Everwood WPC (wood-plastic composite) is a unique blend of premium wood looks and exceptional durability that lends itself to diverse applications, particularly exterior and interior cladding of walls and ceiling surfaces. It's excellent aesthetics and unparalleled performance makes it easily the most suitable material for exterior and interior cladding.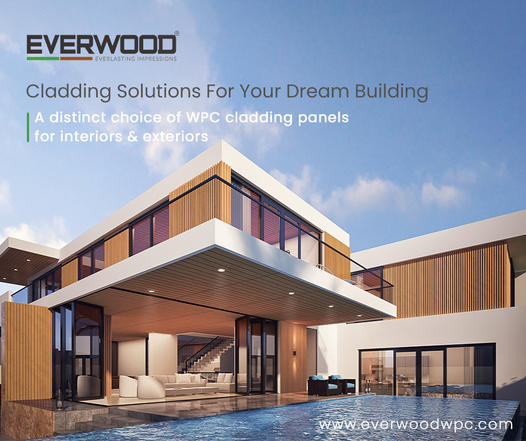 Appearance
Everwood WPC has the exceptional good looks of wood with natural wood colors, combined with perfect wood texture and surface finish. However, unlike natural wood, it does not require any periodic maintenance and is extremely durable in terms of both appearance and performance. 
This exceptionally long lifetime of Everwood WPC makes it the suitable material for exterior cladding, retaining the visual appeal of buildings for years.
Adaptability
Everwood WPC is an extremely versatile material that finds extensive surfacing applications in exteriors & interiors.The availability of different panels types, colors and finishes throws open innumerable avenues for designers and architects in finding the right solution for any requirement. 
Applications
Everwood WPC cladding panels are ideally suited for use in residential, commercial, institutional buildings and malls. They can find applications in surfacing areas of any building and create an awesome visual appeal.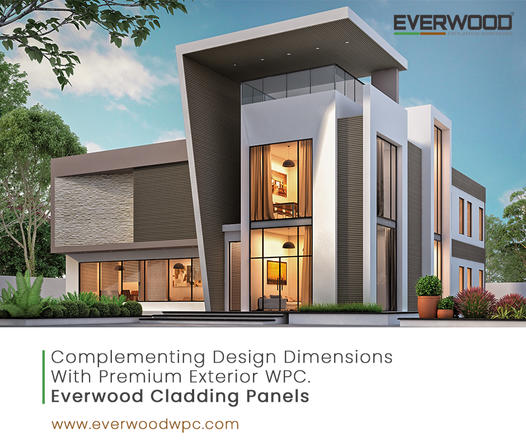 Multiple WPC cladding panels find application in interior and external wall cladding, ceiling cladding, fluted cladding, soffit surfaces, partitions and signage, ducts, roofings, false or suspended ceilings, branding backgrounds and accent walls and so on. 
Tenacity
The unique raw material combination of wood and polymers in Everwood WPC gives it exceptional tenacity to withstand extreme weather changes under all seasons. Its UV resistance, anti-fading, anti-corrosive and impact-resistant properties allow Everwood WPC to survive extreme heat, dust, moisture, cold and dust without any damage.
Thermal Insulation
Everwood WPC panels have a hollow core and an outer layer. These panels are installed on an aluminum framework being fixed on the walls or ceiling surface. This creates a waterproof and insulative layer between the building and the exterior environment, improving the thermal insulation properties of the building. This, in turn, helps in energy saving as well.
Easy to Install
Everwood WPC wall & ceiling cladding panels are installed over an aluminum framework with concealed fixtures, resulting in a seamless finished surface. Everwood WPC panels are interlocked and connected by tongue and groove joints. Unlike with other cladding materials, there are no rivets or exposed fixtures or sealants that undermine the aesthetic appeal and premium look of the surface. Since Everwood WPC panels come with excellent installation instructions and guidelines, it does not call for highly qualified technical experts.